This site is a history of the Housby family, from its beginnings in Hesket in Cumbria in the 1600s to the present. It has links to the Royal Naval Division which my Grandad, John Henry Housby served in in the First World War, my mum's family - the Otters of Portland and for good measure, a bit on my college days at King Alfred's College, Winchester. Will probably bung some more stuff on later.
I've been researching my family tree for some 15 years now and I think I've got as far back as I can go, unless anybody out there can help. Well I guess that's partly why I've decided to publish.
I've had to put up with my surname being constantly mispelt over my 30 odd years of existence, so I suppose I shouldn't be surprised that the current spelling is not the original. Go back to the Seventeenth Century and we were originally Owz(e)bys, then it gradually evolved through Ousby to Housby, with 'e's popping in at odd intervals. I did worry about why there were so few Housbys around, but since I've discovered I'm also an Ousby, the clan has got that much bigger.
Did you know that prior to the mid 1700s there are virtually no Housbys or Ousbys outside of Cumbria. Likewise with a few exceptions, there are hardly any outside of Hesket in The Forest. From around 1770 they start spreading throughout Cumbria - lots in Whitehaven, Cockermouth, Wetheral and thence throughout the country, with the odd ones spiriting off to start new branches around the world (no I haven't found any records of transportation!). To put things in perspective, bearing in mind how uncommon our name is, I have found over 400 references to (H)Ousbys in Hesket between 1665 and 1868. Anyone looking at the IGI by the way, is only seeing a fraction of the number. Carlisle Record Office holds both the Parish Registers and the Bishops Transcripts. Some are illegible, but most are quite readable and unlike the IGI, the entries generally include where the individuals lived in the parish. Absolutely vital as you'll see below. Also there are the burial registers also listing place of death as well as age, child/wife/widow of etc. (why doesn't the IGI cover these?).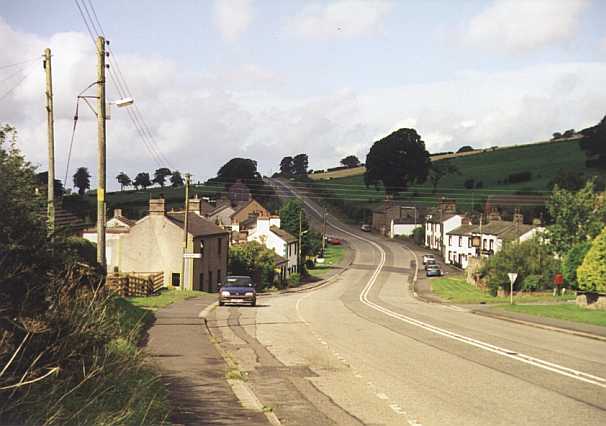 The parish of Hesket in the Forest is centred on High Hesket, a small 'ribbon' village on the main north/south route from the north of England into Scotland, on the west side of the country (A6). The parish includes several hamlets, such as Low Hesket, High Hesket, Old Town, Plumpton, and Armathwaite. The Owzebys (the e comes and goes) lived in two groups, one lot at Old Town and the other at Low (Nether) Hesket. A few odd individual Owzebys are recorded in the early 1600s at Watermillock and Carlisle and in the 1500s at Dacre and Penrith.
Clearly the two groups within Hesket are related, but they do seem to keep themselves apart. Parish Records begin only in around 1665, by which time the groups are distinct, but there must have been a common ancestry. Both were yeoman farmers, the tithe map of 18?? shows lands owned by both groups. Old Town farm is still there today as a working farm, on the south east corner of High Hesket, though thanks to modern double glazing and pebble dash, you'd have a job telling that it was a good couple of hundred years old.
The earliest record I have found for my direct line is a will of Thomas Owzby of Old Town dated 1682. There are a number of Owzeby wills from Hesket, the earliest dated 1660. Unfortunately the testator, William Owzeby only left stuff to people outside of the family, so I have no idea whether he was Thomas's father, grandfather, uncle or whatever. The other wills make interesting reading, some are clearly on my line, some are from the other Owzeby family, some could be either. Just to illustrate the difficulty, both families seem to be naming their children with the same christian names, this could be because they were, afterall, cousins, but possibly also because they were only a limited number of christian names in use. Of course the inevitable did happen and one Isaac Housby married a Mary Housby in 1795. Not likely to be incest, since Isaac was the curate of Armathwaite at the time.
Still on the subject of wills, many of them left monies to people outside of the family, those same names pop up time and time again, either as beneficiaries, witnesses, appraisers etc. The wills span the period from 1660 to 1750 and I think we must be looking at some sort of local oligarchy, ie the yeoman class sticking together. These names include Robinson, Loudin/Lowthian, Olivant, Hodgeson, Stevenson/Stephenson, Mallison, Barker, Hewitson, Bell, Baily and Clark. Needless to say we also see a lot of marrying between these families. So anyone searching those lines might want to make contact, I'd especially be interested to see if their wills include legacies to Owzebys. I am already indebted to Madelaine Rankin (nee Ousby) of Australia for drawing my attention to the will of Margaret Robinson of Old Town from 1685 in which she leaves her money to Thomas Owzeby's children.
Just as an aside, the origin of the surname is fairly obvious. A couple of parishes over is the village of Ousby. So I guess that in the time before surnames were common, someone settled in the Hesket area and being a stranger was called Eric (or whatever) of Ousby. Also as an aside, those early Owzebys at Dacre, Watermillock, Carlisle and Newton Reigny all seem to be single generations or individuals, so it's quite possible that the family was moving around before settling in Hesket. Those places are all within a few score miles of each other.
Back to the family tree. Thomas Owzby died in 1682, his son Thomas, also mentioned in Margaret Robinson's will of 1685 died in 1705 leaving a widow Elizabeth. Their son Thomas was born in 1701 and died in 1729. His son Thomas (see how unimaginative they were!) was born in 1724 and died in 1800, marrying Mary Savage in 1762. Mary died in 1808, oddly enough at Nether Hesket (everyone up to now was was born and died at Old Town). Thomas by the way becomes an Ousby (all Owzebys up till now). Their son Isaac was born in 1778 and died at Old Town in 1836, marrying Eleanor (Nelly) Graham in 1805. She died in 1845 at Armathwaite (Armathwaite becomes a parish in its own right in the late 1700s). Isaac was born Ousby but marries as Housby. His son John, born 1810 at Old Town, moves away from Cumbria, marrying Mary Edwards in 1828 in Gloucester and settling in Stafford in the 1830s. He dies in 1841, leaving John Thomas (no cracks please) born in 1835. John Thomas marries Jane Barber in 1853 (died 1877) and then marries to Harriet Edwards in 1878. Their son Thomas (actually there was a Thomas in every generation up to 1900!) born in 1879, marries Kate Sharpe and they move to Leicester, where they give birth to my Grandad, John Henry in 1898. John Henry marries Ann in 1919, having survived WW1 joining up at 16 and serving with the Royal Naval Division. Grandad died in 1988 and Grandma in July 1999 aged 99 years 9 months. My Dad Raymond Terrence was born in 1933 as was my Mum, Shirley Frances Otter. Married in 1954 at Portland where my Mum lived and they met when my Dad was stationed at the RN base (the Otters of Portland go back to 1740 and before that to 1680 on the Dorset mainland, so any Portland Otters out, hi cousin, now are the ra**its?). I was born in 1960, married Janette Evelyn Parish in 1985 and we have a cute little bod called Emma Elizabeth born in 1988.
P.S. Site still being developed if fits and starts. Last update 9th August 2000
.