Famous/Infamous Otters
This page is devoted to those Otters whose fame or notoriety has extended (sometimes only briefly) across the world's stage.
Captain of His Majesty's ship Prosephine whose naval career in the Napoleonic War was cut short in 1802 when in a fit of extreme bravery (foolishness) he decided to take on two French 74 gun and four 44 gun men o' war with his single 44 gun frigate. Needless to say the battle was somewhat one sided and he spent the rest of the war as a POW, facing a court martial on his release. Charles Otter was probably from another family of the same name who were minor gentry in Middlesex and gave rise to the later Bishop Otter who has the public school named after him.

There has to be one in every family. In the mid 1800s, Tom Otter itinerant labourer, dallied with a local girl and was forced to make an honest woman of her. Unfortunately due to previous circumstances, ie his existing wife Tom Otter was unable to maintain a commitment to the union. In fact the marriage didn't even last 24 hours as Tom Otter murdered her the very same evening. Unfortunately the murder was witnessed and soon Tom Otter soon found himself on the gibbet. Initially he didn't stay up long as the rope broke and one of the workman was flattened. This of course was Tom's curse. Not only that but the blood from his new wife's body stained the floor of the local inn to which she had been taken, and the marks are still visible to this day. The cries of her unborn child can still be heard in that room. The murder weapon, a hedge stake, kept reappearing at the scene of the murder and eventually had to be destroyed by the Bishop of Lincoln. To this day the site of the murder is still known as Tom Otter's Lane. All good stuff, but sad (or relieved) to say that he is probably no relation.
Elizabeth Otter
One of the family at last. Wrote her memoirs which were published as 'A Southwell Maid's Diary', recently transcribed by Mark Godden. The period covers the late 1800s and the early twentieth century and is a very quaint personal view of everyday life and local customs. Old Hiram is mentioned as you'd expect.
Hiram Otter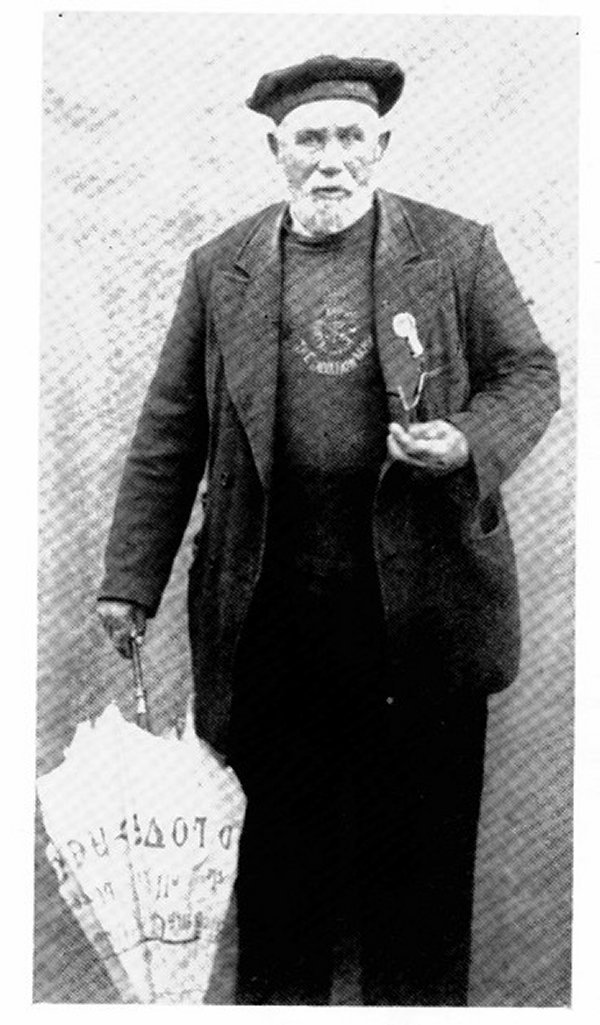 My Great, Great, Grandfather. Carved the path to the bay, named Hallelujah Bay after him, single handed. Local sage and expert on Portland traditions and folklore. Prominent member of the Salvation army. He died in 1901 aged 90 having had 9 children.

Richard Otter
Nephew of Hiram. Emigrated to the states at the turn of the century and worked over there as a stone mason/quarryman. When work dried up he temporary came back to Portland, leaving a wife and three children in Cleveland. In 1912 he returned to America, unfortunately he chose to sail on the Titanic. Had he been a first class passenger he may well have survived, but as a second class passenger he dutifully was still waiting in line for his place in the boats (long gone, many half empty) when the ship went down.

General William Dillon Otter

Often regarded as Canada's first true professional soldier. Born in 1843, by 1883 he had become commander of the infantry school in Toronto. In 1885 he was dispatched to fight the Metis Indian tribe at Batoche, but was diverted to relieve the town of Battleford which was under seige. Our hero decided to pre empt the situation by seeking out the Cree and Stoney Indians and met them in battle at Cut Knife Hill, only to be firmly routed. He subsquently went on to fail to capture Chief Mistahimaskwa (Big Bear). Despite all this he went on to serve in the South African War, becoming the first Canadian born Chief of Staff, getting knighted in 1913 and becoming a general in 1923.

Colonel Alfred Emanuel Otter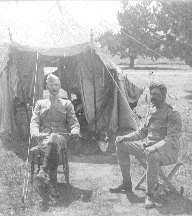 'Teddy' Otter (seated on left) was known as the father of the Victoria Rangers, which he commanded from 1889 to 1901. In the Boer War aged 63 he was given command of the 5th Victoria Mounted Rifles and served briefly in the Transvaal, being invalided home soon after on 5th August 1901. Before arriving in Australia in 1882, he served with the Imperial Army, in 1858 on HMS Excellent and later with the Royal Marine Light Infantry. He died in 1920.